About this site
Julia Cameron Live is an online course and artists' community based on The Artist's Way and led by Julia.
The Artist's Way began with Julia sharing her ideas with a few artists in her living room. Now after selling almost 4 million copies of The Artist's Way and teaching her creativity tools around the world in lecture and workshop form, she's taking her teaching online.
The first online course offered here will complement The Artist's Way, offering unique insights into the 12 week program from Julia, who has more than two decades of experience teaching the creativity tools.
Artists taking part in the creativity workshop at Julia Cameron Live will have the intimate experience of watching Julia teach from her home in Santa Fe. The web-based creativity workshop will give users the flexibility to watch video lectures and join discussions from their living room, kitchen table or morning commute.
Whenever the need for inspiration strikes or motivation for doing morning pages is needed, Julia and the online community of artists will keep each other on track with their creative goals. Learn more.

About Julia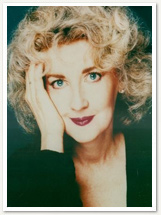 Julia Cameron has had a remarkable career, which in turn has given remarkable help to others.
Julia has published 30 books, highly praised short stories, award-winning essays and hard-hitting political journalism. Her credits range from Rolling Stone to The New York Times. A novelist, playwright, songwriter and poet, she has distinctive credits in theatre, film and television. She has taught everywhere from The Smithsonian to Esalen, The New York Times to the Omega Institute. She also served as writer in residence in film at Northwestern University.
As author of The Artist's Way, The Vein of Gold, and The Right to Write, her bestselling works on the creative process, Julia is credited with founding a movement that has enabled millions to realize their creative dreams. Julia eschews the title creativity expert, preferring instead to describe herself simply as an artist.
"Artists have always mentored," Julia says. "I just do it on a wider scale."
Click here to learn more about Julia.