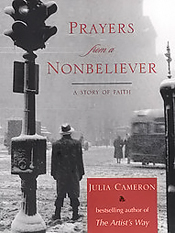 Published: March 2003 | ISBN: 9781585422135
Following in the tradition of Letters to a Young Poet and Conversations with God, Prayers from a Nonbeliever is Julia Cameron's inspiring story of an anonymous "modern soul," as told through a series of impassioned letters to God.
In these haunting and eloquent letters, the writer gives voice to questions that are central to the artist's journey: How can we preserve our creative selves in our busy modern lives? What is the true meaning of art, and how does it relate to spirituality? As questioning at last gives way to revelation, this book travels deep into the heart of what it means to be human.
A powerful portrait of the creative life, Prayers from a Nonbeliever is a singular treasure from one of the great teachers of our time.
Amazon | Barnes & Noble | Penguin | Powells | BAMM | IndieBound